Classes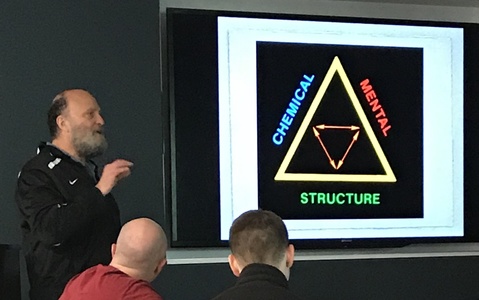 Dr. Jay teaching at Walter Reed Hospital, April 2019
Jay Sandweiss D.O., C‑NMM/OMM, D.A.B.M.A., F.A.A.M.A. offers introductory, intermediate and advanced level training in the following areas:
Osteopathic Manipulation
Muscle Energy Technique
Strain and Counterstrain
Myofascial Release
Functional Release
Cranial Manipulation
High Velocity Low Amplitude Thrust
Integrative Medicine
Learn to incorporate complementary therapies into a standard medical practice. Participants are introduced to a wide variety of evidence based modalities including: acupuncture, manipulation, diet, nutritional and herbal therapies, homeopathy, and mind-body systems such as yoga, meditation, tai chi and other martial arts.
Applied Kinesiology and Touch for Health
Learn to test all major muscle groups and discover the unique relationships that exist between muscles and numerous biochemical, structural and mental/emotional factors.
Practical Applications of Integrative Medicine
Theme based seminars that utilize an integrative model for the treatment of common disorders. Course themes may include back pain, headaches, asthma, allergies, skin disorders, fatigue, lipid disorders, hypertension, irritable bowel syndrome, menstrual disorders, and immune system dysfunctions.
All courses are specially designed to meet the needs of their specific audience. While the seminars are ideally suited for two day agendas, longer or shorter programs can be arranged when necessary.
To schedule a seminar in your area please contact Dr. Sandweiss by phone at (734) 995-1880 or by mail at 417 South Fourth Ave Ann Arbor MI 48104
You can also send an email to drjay@doctorjaysandweiss.com for more information.